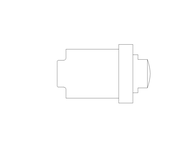 Описание 8N-2694: Indicator-Service:
Cat® Air Filter Service Indicator
Description:Cat air filter service indicator provides a visual reference for the status of engine air filter performance. Designed to work in unison with the rest of your Cat components to ensure maximum potential of your equipment.Attributes:• Plastic filter service indicator• Mounting thread size: 1/8-27 NPT• Labeled push reset mechanismApplication:Visual indicators to identify when the engine air filter should be changed. Consult your owner's manual or contact your local Cat dealer for more information. Cat components can operate in heavy-duty applications such as severe vibration, shock, extreme operating temperature ranges, thermal cycle, thermal shock, humidity, corrosion and excessive dust.
Купить
Caterpillar 8N-2694: Indicator-Service 8N-2694
оригинальные, новые совместимые запчасти на грузовик
Совместимые модели:
wheel-type loader
950G
972G
966G
938G II
962G
994
986H
938H
938G
928G
generator
SR4
engine - generator set
3412C
C13
3408
3408C
3406
3406B
3406C
3306B
3456
3408B
3412
3304B
petroleum products
TH48-E80
C7
TH35-E81
C9
TH31-E61
C15
CX31-C9I
TH35-C15I
TH35-C13I
3126B
CX31-P600
CX35-P800
C13
TH31-C9I
TH31-C9P
C11
CX31-C11I
CX31-C13I
TH35-C11I
CX31-C15I
TH31-C9T
wheel-type skidder
535C
525C
545C
off-highway truck
776B
777B
789
engine - industrial
3412
C-9
3406B
3408
C-12
3306
3412C
C9.3
SBF214
C9
3406E
3196
3406
C13
3408B
SUF557
C7
C15
SPP101
3176B
3412E
C18
C11
3176C
C-15
3456
3408E
C-16
3406C
3408C
3126B
C-10
SR4
track-type loader
953C
951
973
963C
973C
977
953B
955
963B
articulated dump truck
D400E II
D250E II
D300E II
D350E II
road reclaimer
RM-300
cold planer
PM-465
PM-565
PM-565B
motor grader
143H
12H
140H ES
140H
120H
135H
140H NA
12H NA
12G
120H NA
163H
163H NA
14H NA
160H ES
14H
160H NA
135H NA
120H ES
12H ES
140G
160H
24H
16H NA
130G
16H
160K
forest products
2491
539
TK711
532
HA770
511
521
541 2
TK741
543
2590
2290
HA771
533
TK381
522
TK732
TK722
551
552
TK380
TK752
552 2
HA870
TK371
2391
541
TK370
2390
TK721
TK751
HA871
paving compactor
CS-44
CP-74
CS-76
CS-56
CP-64
CP-76
CS-74
CS-64
CP-56
CP-44
track-type skidder
D4HTSK III
527
D5HTSK II
4P
54H
backhoe loader
442D
416B
446B
426B
428D
424D
438B
416D
428B
436B
420D
430D
432D
underground articulated truck
AD22
integrated toolcarrier
IT38G
IT62G
IT28G
IT38H
IT38G II
pipelayer
583R
561N
589
578
561D
572R
561M
587R
marine products
3176B
3412E
3412
track-type tractor
4S
8SU
8U
D5B
D7H
9SU
143
6A
58
D6D
D6N
D7R
D6H
59
D8N
10
D10N
5S
D6R
59N
163
8A
5
55
9
9S
4P
D9R
D5N
140
6SU
D6M
8S
6
D6H XR
59L
D5
10SU
D9N
D11N
D4E
D6H XL
D5H
D5M
9U
6S
7
10S
D8R
8
7S
D4H III
4
9C
153
D5H XL
10U
56H
D4H
11
D8L
5A
7U
D9L
57H
10C
11SU
5P
141
7A
D10
D8R II
57
D4H XL
7SU
11U
D10R
58L
Запчасти для Caterpillar: