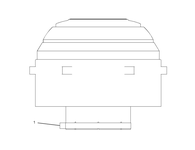 Описание 130-3281: Precleaner Assembly:
Cat® Precleaner Assembly (Turbine)
Description:It pays to choose genuine Cat filters, cleaners and precleaners to protect the iron that generates your income. Contamination is your engine's number one enemy, which is why it's critical to protect your Cat equipment with genuine Cat Filter Elements. Cat precleaner assemblies are your best value for normal duty applications, delivering increased engine protection and preventing equipment downtime.Offering a long service life and exceptional filtration, Cat Air Filters are also environmentally friendly and cost effective. Designed to the exact specifications of your Cat equipment, genuine Cat Filters are a crucial factor in your machine's ability to use air efficiently. A clean filter element protects internal mechanisms from being damaged by dirt.Consistently choosing Cat Air Filters is the best choice to ensure long life and optimum performance of your Cat machinery.Attributes:• Turbine precleaner assembly• Airflow Range: 23-37 m3/min (800-1300 cfm)• Mounting diameter: 204.8 mm (8.06 in)• Outside cover diameter: 416.2 mm (16.38 in)• Quick serviceabilityApplication:Normal operating conditions. Consult your owner's manual or contact your local Cat Dealer for more information.
Купить
Caterpillar 130-3281: Precleaner Assembly 130-3281
оригинальные, новые совместимые запчасти на грузовик
Совместимые модели:
earthmoving compactor
836H
826H
826K
836K
836G
826G II
825K
825H
motor grader
24
wheel-type loader
980K
966M
988K
972M XE
988H
992G
972M
966L
980M
994F
972K
988K XE
966M XE
990 II
994H
966G
972G II
982M
972G
980H
966K
972L
980L
980G II
994
994D
980K HLG
966K XE
engine - generator set
C32
C27
petroleum products
C27
CX35-P800
C18
TH48-E70
CX31-C9I
C9
CX31-C13I
TH31-E61
C32
TH35-E81
CX31-P600
TH35-C13I
TH35-C15I
C15
C11
C13
TH31-C9P
TH35-C11I
TH31-C9I
CX31-C11I
CX31-C15I
CX31-C18I
wheel dozer
824K
834K
824H
834G
844
824G II
854G
834H
engine - industrial
3406B
C-9
C11
C13
C18
C9
C15
C9.3
C32
3406C
C27
expanded mining products
6020B
track-type tractor
D8R
D9R
D11T
D10N
D8R II
D8T
D8N
D10T
D9T
D10T2
D10R
load, haul, dump
R3000H
R1700G
R1700 II
R2900G
R1600G
R2900
R1600H
R1600
WHEEL LOADERS
980H 980L
Запчасти для Caterpillar: