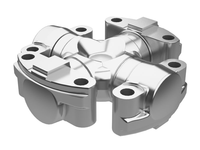 Описание 106-0933: Universal Joint Assembly:
Cat® Universal Joint Assembly (10C)
Description:Cat drive train components must endure incredible torque, high impact loads, and frequent direction and gear changes. Cat designs and manufactures its transmissions and final drive components with these demands in mind. The result is a drive train that lasts longer and works harder over the life of the machine.Attributes:• Steel universal joint assembly• "Lube for Life" design• Pilot diameter: 212.74 mm (8.375 in) after installation• Swing diameter: 225.55 mm (8.879 in) after installation• With dust shields, spider, seals and bearingsApplication:Cat universal joint assemblies are used to transmit rotary motion from shaft to shaft in Cat drive train systems. Consult your owner's manual or contact your local Cat Dealer for more information.
Купить
Caterpillar 106-0933: Universal Joint Assembly 106-0933
оригинальные, новые совместимые запчасти на грузовик
Совместимые модели:
earthmoving compactor
836G
836K
836H
motor grader
24M
24H
wheel-type loader
988G
992G
986H
993K
988K
994D
992K
994F
988K XE
988H
986K
994H
994K
994
off-highway truck
777D
777G
772
777C
777E
776C
770
776D
777F
wheel dozer
834G
834K
854G
854K
834H
track-type tractor
D11R
D11T
D11N
Запчасти для Caterpillar: