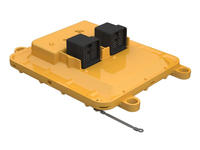 Описание 172-9389: Control Group-Electronic:
Cat® Electronic Control Group (Basic)(MAC 14)(Drive Train)
Description: Electronic control groups read various sensor outputs and controls the necessary systems to provide optimal machine performance in Cat heavy equipment operations.Attributes:• Cast aluminum controller housing• Two 40 pin connections• Emissions controlApplication:Used as needed in Cat heavy duty equipment. Consult your owner's manual or contact your local Cat dealer for more information. Cat components can operate in heavy-duty applications such as severe vibration, shock, extreme operating temperature ranges, thermal cycle, thermal shock, humidity, corrosion and excessive dust.
Купить
Caterpillar 172-9389: Control Group-Electronic 172-9389
оригинальные, новые совместимые запчасти на грузовик
Совместимые модели:
earthmoving compactor
815F II
836H
825G
825G II
826H
825H
826G
826G II
816F
815F
836G
816F II
motor grader
140H ES
12H NA
12H
120K 2
120H
120H ES
163H NA
160H
135H
140H
160H NA
140K
135H NA
12K
24H
12H ES
120K
160K
140H NA
160H ES
143H
120H NA
140K 2
163H
wheel-type loader
962G II
980H
950G II
950G
962G
988H
966G
988G
972G
966G II
980G II
980G
938G II
992G
994F
972G II
994D
990 II
990H
wheel-type skidder
545
535B
525B
wheel dozer
824G
824G II
834G
824H
844
854G
814F
814F II
844H
834H
integrated toolcarrier
IT38G II
IT62G
IT62G II
pipelayer
561N
572R II
572R
track-type loader
963C
973C
953C
track-type tractor
D5N
D6N
D7R II
D6R II
D8R II
D7R
D6R
D11R
D6M
D10R
D5M
load, haul, dump
R1600
R2900
R2900G
R1600G
R1300
R1300G
R1700G
WHEEL LOADERS
980H
MOTOR GRADERS
140K
Запчасти для Caterpillar: