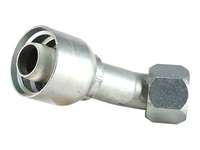 Описание 124-1987: Permanent Coupling:
Cat® Permanent Hose Coupling (45° Elbow)(JIC 37° Female Swivel)
Description:Cat low and medium pressure permanent hoses and couplings exceed SAE requirements for the best in reliable hose and coupling performance. These hose and coupling assemblies are impulse tested in both the unaged and aged condition, up to two and a half times the number of cycles required by SAE, to assure reliable performance.Attributes:• Permanent hose coupling• -16 to JIC 37° Female Swivel• 45° Elbow• Thread Size: 1-5/16-12• Drop: 29.5 mm (1.16 in)• Hex size: 38.1 mm (1.5 in)• Length: 121.4 mm (4.78 in)• Cut-off Factor: 73.9 mm (2.91 in)• For use with 25.4 mm (1.0 in) ID hose• Meets DIN 20022 1SN and DIN 20022 2SN standardsApplication:Permanent coupling for use with one wire braid (716), two wire braid (294) and hydraulic suction (844) hose. Consult your owner's manual or contact your local Cat Dealer for more information.
Купить
Caterpillar 124-1987: Permanent Coupling 124-1987
оригинальные, новые совместимые запчасти на грузовик
Совместимые модели:
underground articulated truck
AD45
AD40
AE40
AD30
AE40 II
load, haul, dump
R1600
R1600G
R1700G
Запчасти для Caterpillar: