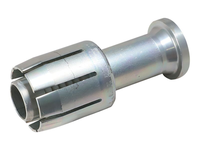 Описание 1P-1219: Reusable Coupling:
Cat® Reusable Hose Coupling (Straight)(Code 61)
Description:All CODE 61 flange head hose couplings and adapter fittings meet or exceed SAE J518 CODE 61 requirements for hydraulic split flange connections. The CODE 61 flange head design can withstand a maximum operating pressure of 3000 to 5000 psi depending on size.Attributes:• Reusable hose coupling• Straight• -20 Code 61 flange• Length: 139 mm (5.47 in)• Cut-off factor: 79 mm (3.11 in)• Head size: 50.8 mm (2.0 in)• For use with 31.8 mm (1.25 in) ID hose• Reusable couplings feature slim, collet-type style; multi-land fingers and stem (tapered); hardened steel sleeve; precision machined o-ring head; extruded stem and colletApplication:Reusable coupling for use with wire reinforced high pressure hydraulic hose. Consult your owner's manual or contact your local Cat Dealer for more information.
Купить
Caterpillar 1P-1219: Reusable Coupling 1P-1219
оригинальные, новые совместимые запчасти на грузовик
Совместимые модели:
earthmoving compactor
825
826B
wheel-type loader
950G II
950E
988B
966G II
950F
962G
950B
972G II
950G
960F
980B
962G II
992
992C
992B
off-highway truck
768C
768B
769
773
769C
772
772B
769B
773B
wheel dozer
824
824S
824C
834
834S
underground articulated truck
AD45
AE40
AE40 II
AD40
excavator
215
215B
track-type loader
977L
983
983B
wheel tractor-scraper
627
650B
641B
623
627B
637G
651B
657B
633C
621
621B
660B
633D
631G
623B
621R
track-type tractor
8S
8
59
D10N
183B
9
173B
9U
193B
9C
10
D9L
8U
D10
9S
10S
10U
D8L
8A
10C
58
Запчасти для Caterpillar: