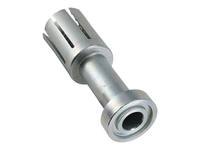 Описание 153-0835: Reusable Coupling:
Cat® Reusable Hose Coupling (Straight)(Cat Flange)
Description:Cat high pressure reusable hose couplings exceed SAE requirements for the best in reliable hose and coupling performance. All couplings having Caterpillar flange heads meet or exceed the performance requirements of SAE J518 CODE 62 specifications for hydraulic split flange connections. The thickness of Caterpillar flange heads is greater than CODE 62 so that special split flanges are required for proper installation. The CODE 62 flange head design can withstand a maximum operating pressure of 6000 psi regardless of size.Attributes:• Reusable hose coupling• Straight• -16 Cat flange• Length: 153 mm (6.02 in)• Cut-off factor: 91 mm (3.58 in)• Head size: 47.6 mm (1.87 in)• Head thickness: 14.2 mm (0.560 in)• For use with 25.4 mm (1.0 in) ID hose• CAT Flange components meet or exceed the performance requirements of SAE J518-2, Code 62Application:Reusable coupling for use with wire reinforced high pressure hydraulic hose. Consult your owner's manual or contact your local Cat Dealer for more information.
Купить
Caterpillar 153-0835: Reusable Coupling 153-0835
оригинальные, новые совместимые запчасти на грузовик
Совместимые модели:
excavator
321B
Запчасти для Caterpillar: