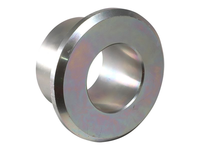 Описание 193-5015: Flange:
Cat® Flange (Bucket Adjuster)
Description:Cat® Machine Linkage Flanged Bearings support rotational and thrust movement between machine frames linkage and work tools. They are found mostly in the arms and buckets of machines. Genuine Cat Pin and Flanged Bearings are specifically designed to operate as a system to deliver the performance you expect. Caterpillar design engineers match the right combination of dimensions, materials, surface finish, and manufacturing processes, to each part to enable them to work and wear effectively with all the other neighboring and dependent parts.Attributes:• Hardened steel flange bearing• OD: 160 mm (6.29 in)• ID: 80.05 mm (3.15 in)• Bearing surface length: 67.5 mm (2.65 in)• Overall length: 85.4 mm (3.36 in)• Cat heavy duty Flanged Bearing are built with high grade steel and hardened for exceptional strength and wear life. They work as a system for your specific Cat machine and are tested and proven in the world's most severe applications. They give you maximum strength and resistance and result in a lower overall cost, outstanding strength and fatigue life, superior resistance to abrasive wear, exceptional protection against pin spalling and galling, even in high-load conditions.Application:Cat Flanged Bearings are designed for conditions that require demand and load strength for longer bearing life. Cat Flanged Bearings are the top choice for maximum performance in demanding applications. They are designed to match to the mating pin.Consult your owner's manual or contact your local Cat Dealer for more information.
Купить
Caterpillar 193-5015: Flange 193-5015
оригинальные, новые совместимые запчасти на грузовик
Совместимые модели:
wheeled excavator
M318
M320
M320F
M318D
M322D2
M322C
M318C
M318D MH
M322D2 MH
M322D
M322D MH
M320D2
M318C MH
M324D2 MH
M322F
material handler
MH3022
MH3024
excavator
320D LRR
320C
320D
321C
320D2
322B L
320 GC
319D
323D2 L
320D2 L
322C
323
323D L
320F L
323D LN
320D GC
323D SA
323E SA
325C
352F
320D L
323F L
320E LRR
320E LN
324D L
345B II
318B N
325F
320E L
325F LCR
321B
320E
323D2
318B
325B L
324D
321D LCR
323F
319D LN
319D L
325B LN
323E L
345C L
320D LN
318C
320B L
320
315C
330B L
320B
320D3
336D L
320D2 GC
323D3
330D L
323D S
320B S
320D RR
320B N
324E L
320C L
323D
323E LN
320E RR
324E
319C
work tool
GH52
H140S
H120S
H130S
160
H160CS
115
H160S
120
H160DS
H140DS
140
130
H180S
H120CS
H140CS
H180DS
H195
H115S
WHEEL EXCAVATORS
M320D2
TRACK EXCAVATORS
324D 320D 320D2 323-07 320-07 320-07GC
Запчасти для Caterpillar: