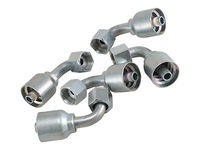 Описание 124-2144: Permanent Coupling:
Cat® Permanent Hose Coupling (90° Elbow)(ORFS Female Swivel)
Description:Cat high pressure permanent hose couplings exceed SAE requirements for the best in reliable hose and coupling performance. Attributes:• Permanent hose coupling 6MN• 90° Elbow• -6 ORFS Female Swivel• Drop: 23 mm (0.90 in)• Thread Size: 11/16-16• Length: 58 mm (2.28 in)• Cut-off Factor: 33 mm (1.28 in)• For use with ID 9.52 mm (0.375 in) hose• Non-skive coupling for braided hose productsApplication:Permanent coupling for use with wire reinforced high pressure hydraulic hose. Consult your owner's manual or contact your local Cat Dealer for more information.
Купить
Caterpillar 124-2144: Permanent Coupling 124-2144
оригинальные, новые совместимые запчасти на грузовик
Совместимые модели:
earthmoving compactor
826C
825C
wheel-type loader
966F
980C
966F II
980F
950 GC
990
990 II
980G
off-highway truck
773F
777F
797F
775F
articulated dump truck
D400E
D350E
work tool
PC310B
PC412B
PC205B
SW360B
SG16B
HM415B
SG18B
PC305B
PC104B
PC306B
SW460B
SW345B
HM315B
PC408B
погрузчик с телескопической стрелой
TH406C
TH337C
TL943C
TH336C
TH514C
TL642C
TH417C
TH407C
TH414C
motor grader
140M
24M
material handler
MH3037
skid steer loader
272C
246C
256C
262C
262C2
wheel dozer
824C
844
underground articulated truck
AE40 II
AD55
AD45
integrated toolcarrier
IT14G
marine products
C7.1
wheel tractor-scraper
657E
637E
631E
633D
637D
631D
633E II
load, haul, dump
R1700G
R1600
R1600G
Запчасти для Caterpillar: