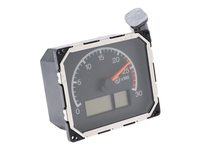 Описание 178-8583: Control Group-Electronic:
Cat® Electronic Control Group (Speed/Tach Module)
Description: Cat components make certain that your equipment is operating at an optimal level. Cat electronic control groups provide operators a visual display indicating the status of many important machine systems.Attributes:• Aluminum housing with digital and dial display• With lamp socket openings• Operating voltage range: 8 to 15 V• Pigtail 6 pin DT connector• Operating temperature range: -40°C to +85°C (-40°F to +185°F)• For use with metric hardware• RoHS compliantApplication:Used as needed in Cat heavy duty equipment. Consult your owner's manual or contact your local Cat Dealer for more information. Cat components can operate in heavy-duty applications such as severe vibration, shock, extreme operating temperature ranges, thermal cycle, thermal shock, humidity, corrosion and excessive dust.
Купить
Caterpillar 178-8583: Control Group-Electronic 178-8583
оригинальные, новые совместимые запчасти на грузовик
Совместимые модели:
earthmoving compactor
836G
836H
826H
825H
wheel-type loader
988G
988H
wheel dozer
834H
824H
834G
Запчасти для Caterpillar: