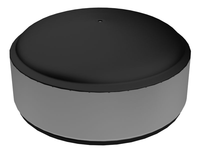 Описание 150-1714: Precleaner Assembly:
Cat® Precleaner Assembly (Air Cleaner)
Description:It pays to choose genuine Cat filters, cleaners and precleaners to protect the iron that generates your income. Contamination is your engine's number one enemy, which is why it's critical to protect your Cat equipment with genuine Cat Filter Elements. Cat precleaner assemblies are your best value for normal duty applications, delivering increased engine protection and preventing equipment downtime.Offering a long service life and exceptional filtration, Cat Air Filters are also environmentally friendly and cost effective. Designed to the exact specifications of your Cat equipment, genuine Cat Filters are a crucial factor in your machine's ability to use air efficiently. A clean filter element protects internal mechanisms from being damaged by dirt.Consistently choosing Cat Air Filters is the best choice to ensure long life and optimum performance of your Cat machinery.Attributes:• Air precleaner assembly• Mounting diameter: 178.6 mm (7.03 in)• Outside cover diameter: 412.5 mm (16.24 in)• Quick serviceabilityApplication:Normal operating conditions. Consult your owner's manual or contact your local Cat Dealer for more information.
Купить
Caterpillar 150-1714: Precleaner Assembly 150-1714
оригинальные, новые совместимые запчасти на грузовик
Совместимые модели:
engineer support tractor
C18
generator
SR500
wheeled excavator
W345B II
engine - generator set
C18
C27
3412
3412C
3516C
3406C
C15
3456
3406E
C9
C15 I6
petroleum products
TH31-E61
TH48-E70
CX35-P800
C15
CX31-C9I
CX31-P600
TH31-C9I
TH31-C9T
TH31-C9P
C27
off-highway truck
773B
775B
773E
772B
773D
excavator
349D2
345B II
349D L
345D L
349F L
349D
349E L
352FMHPU
349E
349F LXE
345C
349D2 L
352F XE VG
352F
345D L VG
352F-VG
345C L
352F OEM
349F
349E L HVG
5080
345B L
345B
345B II MH
375-A
375-A L
349E L VG
345D
engine - industrial
3406B
3406C
C9
C27
C32
SUF557
SBF214
marine products
3412C
articulated dump truck
D400E II
TRACK EXCAVATORS
349D 349D2 349D2L
Запчасти для Caterpillar: