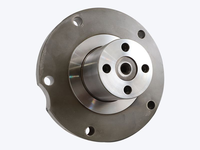 Описание 197-4971: Stubshaft:
Cat® Stubshaft (Cluster)
Description:Subshafts provide a protruding shaft for gear assemblies to rotate on to power auxiliary systems in Cat heavy duty equipment. Quality you expect for your rugged work environment.Attributes:• Hardened steel stubshaft• Shaft diameter: 63.5 mm (2.5 in)• Thread size: 5/16-18-2B (4 holes to thrust plate)• 10.5 mm (0.41 in) diameter mounting holes to front plate• Emissions controlApplications: Service component for gear cluster in the front gear group. Consult your owner's manual or contact your local Cat Dealer for more information.
Купить
Caterpillar 197-4971: Stubshaft 197-4971
оригинальные, новые совместимые запчасти на грузовик
Совместимые модели:
earthmoving compactor
826G II
836H
826C
825H
825K
825C
826H
826K
836K
826G
825G II
836G
engineer support tractor
C18
generator
WEG
XQP500
SR4
wheel-type loader
980G
988K
988K XE
986K
988H
986H
980H
988G
challenger
MT855
MTC845
MT845
MT835
MTC835
MT865
MTC865
MTC855
engine - truck
C15
C-16
C-15
C18
C-18
C16
petroleum products
C18
CX35-P800
TH35-C15I
C15
TH35-E81
CX31-C18I
CX38-P892
CX35-C18I
TH48-E80
CX31-P600
TH35-C15T
C-15
CX38-P800
CX31-C15I
engine - generator set
C15
C18
C9
C13GENSET
C15 I6
C18 GEN SE
C18 I6
3456
off-highway truck
770
770G
772G
773GC
770G OEM
772
772G OEM
engine - industrial
C18
C15
C-15
C-16
articulated dump truck
735
740B
740 GC
745
735B
740
735 OEM
735C
740C
745C
road reclaimer
RM500B
RM-500
cold planer
PM820
PM825
PM620
PM822
PM622
PM-200
PM-201
motor grader
24M
material handler
MH3295
wheel dozer
834K
824K
834H
824C
824G
824G II
834G
824H
underground articulated truck
AD55
AD45B
AD30
pipelayer
PL87
587T
PL83
583T
drill
MD6200
excavator
365C
374F L
390D
390F L
390D L
390F
385C
374F
374D L
365C L
385C L
385C FS
385C L MH
365C L MH
marine products
3406E
C18
C15
wheel tractor-scraper
657G
657E
623E
623F
637K
637D
657B
631D
631E
633E II
621G
621E
651B
631K
637E
621B
623G
631G
627E
633D
623B
637G
627G
627F
621F
track-type tractor
D8T
D9T
D8R
expanded mining products
MD6290
6015 FS
6015
6018
load, haul, dump
R2900
R2900G
R3000H
WHEEL LOADERS
980H
Запчасти для Caterpillar: