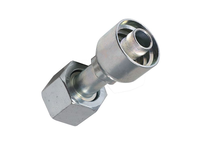 Описание 124-2120: Permanent Coupling:
Cat® Permanent Hose Coupling (Straight)(ORFS Female Swivel)
Description:Cat high pressure permanent hose couplings exceed SAE requirements for the best in reliable hose and coupling performance. Attributes:• Permanent hose coupling 10MN• Straight• -10 ORFS Female Swivel• Thread Size: 1-3/16-12• Length: 65 mm (2.56 in)• Cut-off Factor: 40 mm (1.57 in)• For use with ID 15.88 mm (0.625 in) hose• Non-skive coupling for braided hose productsApplication:Permanent coupling for use with wire reinforced high pressure hydraulic hose. Consult your owner's manual or contact your local Cat Dealer for more information.
Купить
Caterpillar 124-2120: Permanent Coupling 124-2120
оригинальные, новые совместимые запчасти на грузовик
Совместимые модели:
wheel-type loader
972G
966F II
966F
966G
966E
966D
skid steer loader
236D
259D
289D
257D
277D
242D
272D2 XHP
297D XHP
279D
246D
299D XHP
262D
299D2 XHP
299D2
297D2
297D
272D
299D
287D
272D2
297D2 XHP
272D XHP
mini hydraulic excavator
303.5E2 CR
305E2 CR
304E2 CR
305.5E2 CR
track-type tractor
D8N
D10N
Запчасти для Caterpillar: