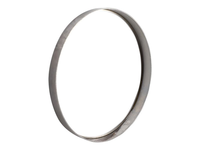 Описание 1T-0806: Retainer-Thrust Bearing:
Cat® Thrust Bearing Retainer
Description:Cat bearing retainers are designed to retain bearings in the correct position for their application. Durable construction and materials ensure long lifeAttributes:• Steel bearing retainer• Bearing interface diameter: 135.83 mm (5.35 in)• OD: 142.44 mm (5.61 in)• Height: 13.05 mm (0.51 in)Application:Cat bearing retainers are application specific. Consult your owner's manual or contact your local Cat Dealer for more information.
Купить
Caterpillar 1T-0806: Retainer-Thrust Bearing 1T-0806
оригинальные, новые совместимые запчасти на грузовик
Совместимые модели:
earthmoving compactor
826B
825B
836
836H
836K
836G
motor grader
24M
24
24H
wheel-type loader
992B
990K
988K
992C
988F
992D
992
990 II
988G
988F II
988H
990
990H
petroleum products
CX38-P800
CX38-P892
off-highway truck
773B
772B
775G OEM
769D
775G LRC
769C
770G
771D
773E
775B
775F
772G
773D
773F
773GC
773G LRC
772
768C
771C
775D
770G OEM
775E
770
772G OEM
69D
773G OEM
wheel dozer
834K
834
844K
834S
844
824B
834U
834H
844H
834B
834G
underground articulated truck
AE40
AD45
AD45B
AD60
AD55B
AD40
AE40 II
AD55
articulated dump truck
735C
745C
740C
D40D
D35HP
740
740B
745
D400D
D350E
D400E II
735B
735
735 OEM
D350E II
D400E
D400
740 GC
wheel tractor-scraper
641B
666B
657E
651E
657B
657G
660B
650B
666
651B
657
track-type tractor
D9R
Запчасти для Caterpillar: