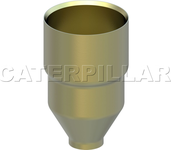 Описание 119-3061: Sleeve-Injector:
Cat® Injector Sleeve
Description:Injector sleeves act as a collecting chamber for the fuel in a fuel injection system. These sleeves allow more fuel flow around the injector reducing the possibility of sleeve pitting caused by small amounts of air introduced into a fuel system either through leaks or excessive turbulence. These service components are suited to engine overhaul and scheduled maintenance of Cat engines.Attributes:Hardened brass injector sleeveApplication:Injector sleeves are application specific. Consult your owner's manual or contact your local Cat Dealer for more information.
Купить
Caterpillar 119-3061: Sleeve-Injector 119-3061
оригинальные, новые совместимые запчасти на грузовик
Совместимые модели:
engineer support tractor
30/30
DEUCE
challenger
35
55
45
wheel-type loader
950F II
962G
938F
960F
910F
950G
950F
928G
938G
928F
924F
910E
engine - truck
3116
3126
wheel-type skidder
525B
535B
engine - machine
3116
engine - industrial
3114
3116
3126
track-type loader
953B
953C
963B
963C
articulated dump truck
D250D
D20D
combine
460
465
470
forest products
570
TK381
TK370
TK380
533
543
TK371
550
580
574
539
motor grader
135H
120H ES
120H NA
120H
135H NA
wheeled excavator
M318
M320
M325B
paving compactor
CS-563C
CP-533D
CB-634D
CS-583C
CS-533
CS-531D
CB-434
CS-531C
CS-563
CB-634C
CP-563
CP-533C
CS-563D
CS-533C
CP-563C
CS-531
CP-533
CS-573D
CS-583
CP-563D
CS-583D
CB-634
CS-533D
CS-573C
CS-573
backhoe loader
446D
446B
asphalt paver
AP-1055B
BG-2455C
BG-245C
AP-1000
BG-240C
AP-1000B
AP-900B
BG-260C
AP-1050
AP-1050B
excavator
325-A L
320B N
322C
325B L
320-A N
325-A
322 L
320B L
325-A LN
322B L
322B LN
322-A L
322N
325-A FM L
322C FM
325B LN
320-A
320-A L
322-A N
322 LN
320B
322-A LN
325 L
320N
320B S
320-A S
325 LN
320 L
integrated toolcarrier
IT62G
IT38G
IT38F
IT28F
IT14F
IT28G
IT12B
IT24F
pipelayer
561M
marine products
3126
3116
wheel tractor-scraper
613C II
613C
track-type tractor
D6M
D5M
Запчасти для Caterpillar: