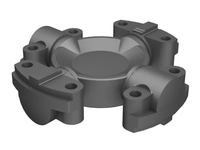 Описание 173-0888: Universal Joint Assembly:
Cat® Universal Joint Assembly (Rotor Drive)
Description:Cat drive train components must endure incredible torque, high impact loads, and frequent direction and gear changes. Cat designs and manufactures its transmissions and final drive components with these demands in mind. The result is a drive train that lasts longer and works harder over the life of the machine.Attributes:Lube for life designApplication:Cat universal joint assemblies are used to transmit rotary motion from shaft to shaft in Cat drive train systems. Consult your owner's manual or contact your local Cat Dealer for more information.
Купить
Caterpillar 173-0888: Universal Joint Assembly 173-0888
оригинальные, новые совместимые запчасти на грузовик
Совместимые модели:
earthmoving compactor
826H
826G II
826K
825K
825H
825G
826G
825G II
cold planer
PM-465
motor grader
24M
24
wheel-type loader
980K HLG
990K
980G II
980H
986K
980G
982M
980M
980K
986H
990H
980L
off-highway truck
771D
775E
773D
770G
773E
772G
775D
772G OEM
773F
769D
770G OEM
775F
wheel dozer
844H
844K
824K
824G
824G II
824H
articulated dump truck
740C
740 GC
745
740
745C
735B
740B
735
735C
735 OEM
wheel tractor-scraper
637K
track-type tractor
D10R
D10N
D10T
D10T2
road reclaimer
RM-500
RM-350B
RM500B
WHEEL LOADERS
980H 980L
Запчасти для Caterpillar: