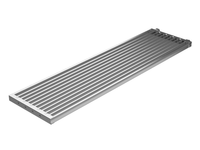 Описание 132-3968: Core Assembly-Condenser:
Cat® Condenser Core Assembly (A/C)
Description:The HVAC system provides heating, cooling and filtering of fresh and/or recirculating air in the operator compartment of a Cat machine. The goal is to provide thermal comfort for the operator. Cat condenser assemblies provide large surface areas for heat exchange to condense the fluid inside. Condenser and drier condenser should be replaced when there is a major compressor failure. Flushing will not completely remove debris from the coils.Attributes:• Condenser core assembly• Refrigerant compatibility: R134a• Manufactured with heavy gauge mounting brackets to reduce movement and vibration• Fitting 1 Gender: Male Inlet• Fitting 2 Gender: Male Outlet• Inlet thread size: 3/4-16-2A STOR Fitting (Long Pilot)• Outlet thread size: 5/8-18-2A STOR Fitting (Long Pilot)• Item grade: OEM Standard• Product condition: New• Package contents: 1 CondenserApplication:Condenser used in Cat heavy-duty equipment to cool air conditioner refrigerant in a pressurized HVAC system. Consult your owner's manual or contact your local Cat Dealer for more information.Quality you expect for your equipment.
Купить
Caterpillar 132-3968: Core Assembly-Condenser 132-3968
оригинальные, новые совместимые запчасти на грузовик
Спецификация:
Height (mm):

289

Width (mm):

28.5

Material Description:

Aluminium

Length (mm):

1129
Совместимые модели:
wheel-type loader
988G
988H
wheel dozer
834H
834G
road reclaimer
RM500B
RM-300
RM-500
Запчасти для Caterpillar: